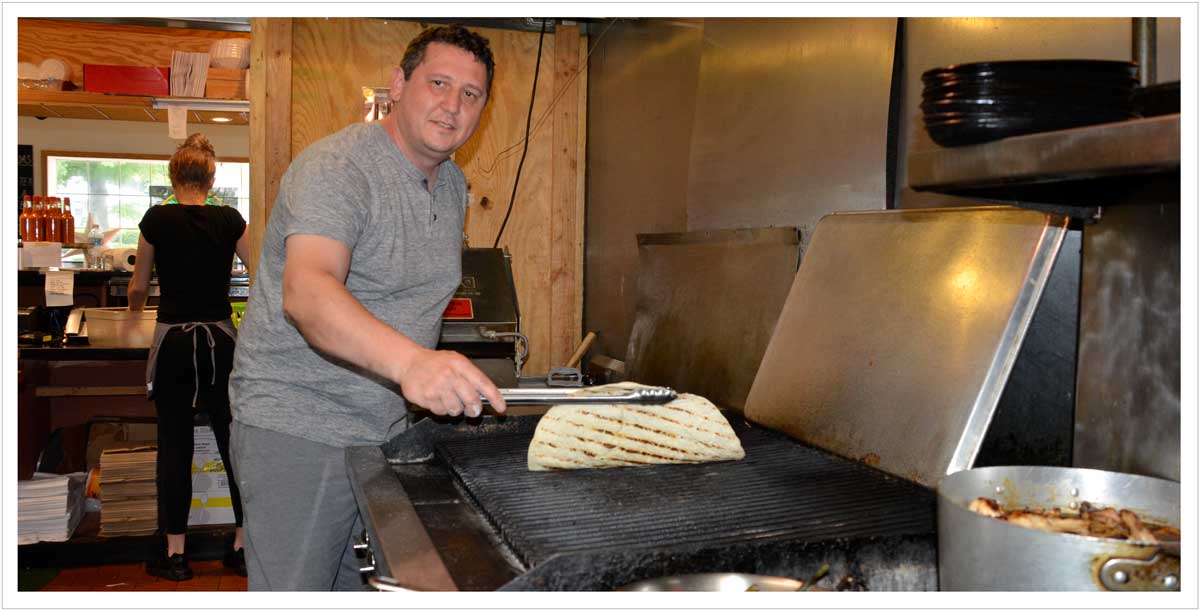 Hi my name is Alex and I have been running Fresh Tortillas together with my family for the past 11 years. We started as a modest place with me and two other employees. Over the years as our business grew and we were able to hire many more people and increase our business significantly. We are involved with the local community and we always try to help with donations to local charitable events. We are especially involved with Phillipsburg High school yearly activities. We are proud to be part of the Phillipsburg community.
Recently I have been asked what is the best way to describe Fresh Tortillas.
Well… I heard once there is a "secret society of taco worshipers" out there. I think we are just that with one exception, we are not secret.
Tortillas are one of the oldest staples in the world, they range from corn to flour, to gluten-free…. However they have one thing in common, they are perfect vessels for flavor delivery. I personally call them little boats of deliciousness. There are many dishes in Texican cuisine: burritos, enchiladas, chimichangas… and they are all great, but the taco is King. You don't see the places called burriterias and you don't see enchilada trucks out there, it all revolves around the taco. The base for the taco is a tortilla which is made fresh daily in our restaurant. This is something that really separates us from any other Tex-Mex place in the wider area.
Why do I consider tacos a perfect food?
They are simple (all food should be), there should be no more than 3 or 4 things on the taco.
They are transparent. You can see and recognize what are you eating just by having a glimpse of it.
They are suitable for every meal (egg tacos for breakfast is totally overlooked). Breakfast tacos are better, tastier and healthier than bagels.
Everybody likes tacos.
All this being said there is one thing that tacos are not that good at, they do not hold the heat for a very long time, so we recommend you to eat them in our restaurant.  If you love your food hot, order a burrito.  This wrap of deliciousness will meet your standards.
Our take-out service
We offer take-out for all of our customers, if you call in or order online through our website your food will be ready in about 15 minutes.
Our delivery service
We offer delivery 6 days a week from 11AM to 9PM. Delivery can take from 20 to 40 minutes depending on the road conditions and how busy we are. We do accept credit card payments for delivery, please note that we can process multiple orders for the same address, but there is a limit of one  credit card payment per address. So for example, if you are ordering from your office, you can place separate orders for each person, but only one payment can be on the credit card and all others must be cash.
Dine in
The best way to experience our food. The food goes from the grill or the stove to your table in a matter of minutes so you are getting fresh food.